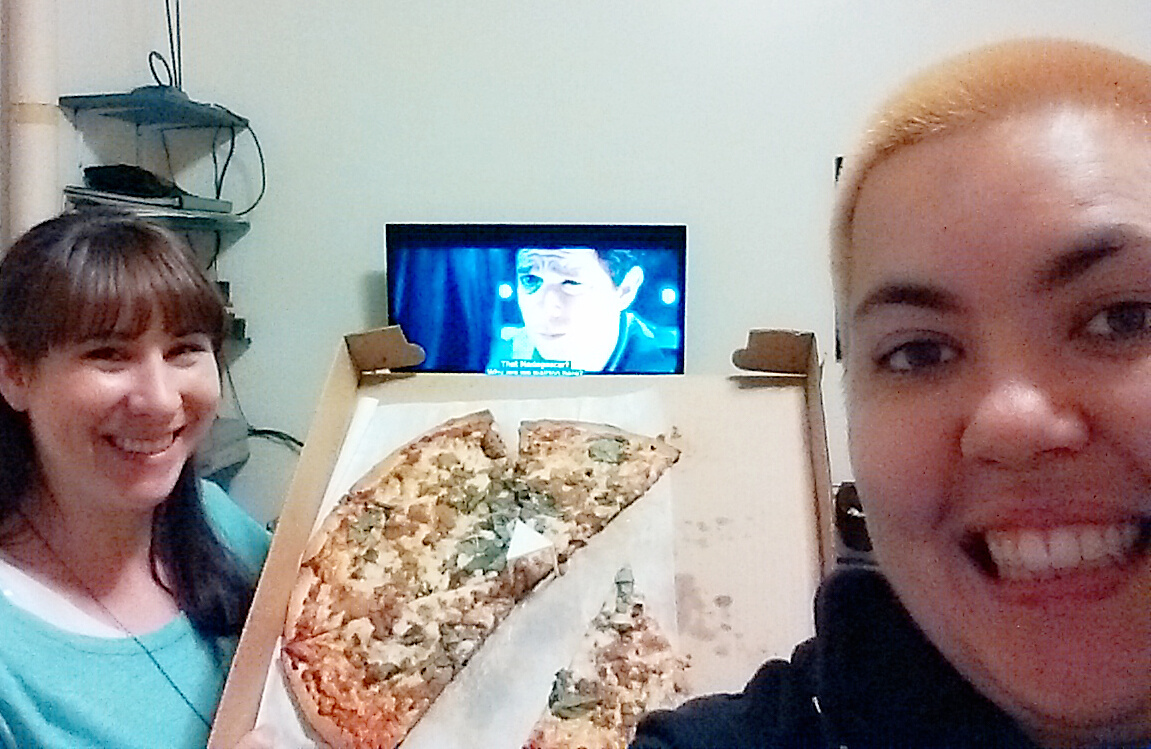 Not the greatest picture, but I'm just glad I remembered to pause the movie and take a picture before the pizza was devoured.
The pizza tonight came from Bad Horse Pizza. The garlic knots were nothing to write home about, but the pizza was fantastic. A little pricier than I usually go for, but worth it. The service was pretty great too.
My friend Melanie and I have movie marathons where we choose a theme and watch three movies based on that theme. It's really fun.
Some examples:
Future – Star Trek, Oblivion, Iron Man 3
High School – Easy A, Crazy About You, She's The Man
We order food, take short breaks in between, and stay up way too late. Unfortunately, it's been getting harder for some people (Melanie) to last through 3 movies in one sitting. So tonight we had a "Mini Movie Marathon" of only two movies. Turns out, it's easier to find 2 movies based on a theme than 3.
Examples of Future/Past (with an actor or location in common):
Will Smith – iRobot and Wild Wild West
Leonardo DiCaprio – Inception and Titanic
Alan Rickman – Hitchhiker's Guide To The Galaxy and Sense and Sensibility
We went with that last option. The Inception/Titanic option sounds really fun, but we were getting a late start and those movies are really long. Shout out to Jenn who joined us late so wasn't in the photo.
If you have any ideas for movie marathons, you should definitely share with us. Some themes include, Good/Evil, Big City/Small Town, New York City, Journey, War (3 different wars), and Change of Heart.
Seriously, we would love any input you may have for theme ideas or movies that would go well together.
What's Tomorrow?
May 16th