I'm only a few days away from arriving to Bree and meeting up with Strider. We are making progress!
It was a bit more slow going this week because I was viciously attacked by allergies. Our fellowship will encounter attacks from trolls, Nazgul, and Orcs. My attacks on this journey will be more tame. It will be weather, health, and the worst enemy – time. Walking so much each day takes so much time, and being able to find that time amidst a hectic life will be a constant issue.
My walk today was once again downtown. I headed East from the theatre. It's a residential neighborhood, so fewer tourists.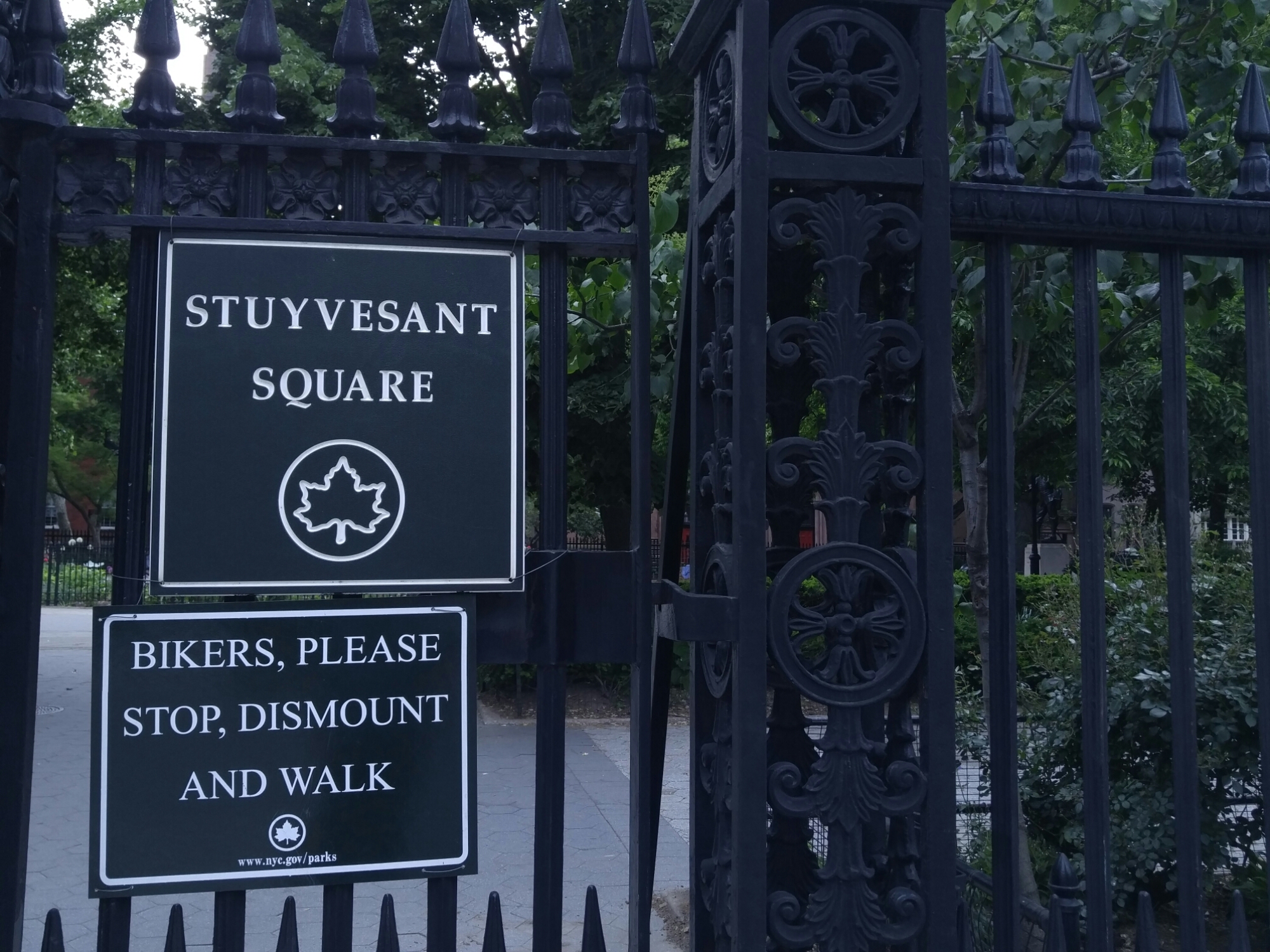 This is a nice little park. I didn't realize I'd been here before, but remembered a lunch with a friend once I'd walked in.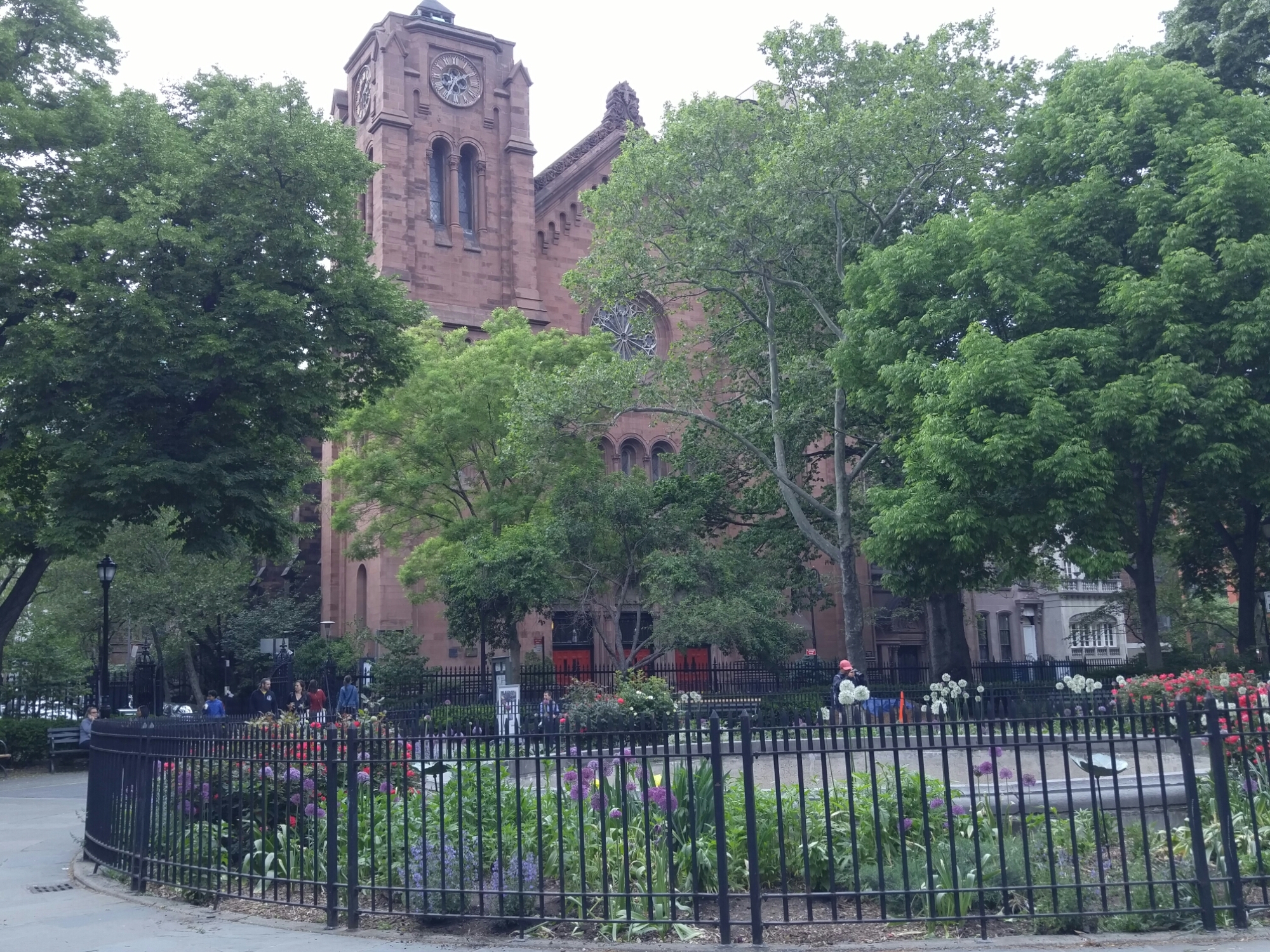 I picked up some lunch and ate on one of the benches here. It was nice.
There is a song in the musical If/Then that I was reminded of. It's called Map of New York. It's about how each of us has a special way we view the city based on what we've experienced in each location. Each of us has our own map of New York. This park, for me, is where I ate lunch with a friend visiting from Cleveland. Just like 162nd street was where I lived before I had any friends or connections in the city. And Duke on 42nd Street is where I worked on my first show in the city.
I love listening to this song and thinking about my own map. You can likely do the same thing for your own town or city.
[Stephen:]
Think of each plaza, pier, and public park
How many sit there empty, lonely, dark
Think of it, for tomorrow's sake
Think of how you and I can make our mark

You and I,
we can draw a brand-new grid
Everything that you dreamed of as a kid
Give it a year, and go with me
Soon enough, you'll say "Look what we two did"

You've always had the right dream
We've always made a tight team
Now at last you're back,
exactly where you ought to be
So let's make a map of New York you and me

[New Yorker:]
Twenty-two Reade, a building, sidewalk, shade

[Another New Yorker:]
Now a memory that for Beth will never fade

[Beth:]
And I could be planning city sites
Where memories just like this one might be made

[Writer:]
Thirty-three Bond,
where I wrote my first book

[Chef:]
Greenwich and Moore,
where I learend how to cook

[Young Woman:]
The Center Street courts
I intern there

[Beth:]
The joy of this job is everywhere I look

[Messenger:]
That market was my first job

[Elena:]
That diner was my worst job

[Those Six:]
And everywhere around me are these lives I left behind

[Foreman:]
The Tunnel where I laid rail

[Realtor:]
The co-op where I made my first sale

[All Eight:]
They make a map of New York in my mind

[Anne:]
Put a sticker on the map where you landed that first day

[Kate:]
Put a pin on the bridge

[Lucas:]
On the train

[Anne:]
On J.F.K

[Beth:]
On the street where I swore I'd afford a place some day

[Kate, Anne, Lucas, & New Yorkers:]
Ev'ry avenue and place,
ev'ry building, ev'ry face
Of the lovers and the friends,
the beginnings and the ends
Make a map of NYC,
where I've been and who I'll be
And you'll find me

[Liz:]
And you're feeling adrift, alone, apart
Then suddenly life will somehow start
And a map of New York is written on your heart

[New Yorkers:]
On your heart
On your heart

[Beth:]
I'm too old for all that shit
to be told I'm selling out
Then again, all these years,
did I lose what I'm about?
On the street, in the cold,
it's so hard to fight the doubt

[Beth & New Yorkers:]
Then you hear the tunnel hum
With a rain about to come
And you surface to the street
And you fall into the beat
You can trace a line to me
On that map of NYC
Right where I should be

[Stephen:]
Think of how human life will ebb and flow

[Stephen & Beth:]
People, and how they'll come and how they'll go
Remember the things we hoped and planned

[Stephen:]
Remember them, and believe them, and you'll know

[Beth & Stephen:]
We'll know

[Beth, Stephen & New Yorkers:]
We never walk a straight line
We never check a street sign

[Beth & Stephen:]
But it's in the detour that we truly find our way

[Stephen & New Yorkers:]
We always know the way home

[Beth & New Yorkers:]
As long as we can stay here we're home

[Beth:]
And we make a map of work

[New Yorkers:]
Love and loss and life

[Stephen:]
And we make a map of play

[New Yorkers:]
We find our way

[Stephen & New Yorkers:]
And we make a map of New York ev'ry day

[New Yorker:]
Ending the night at 23rd and Third

[Another New Yorker:]
Liz and her date,
who's hanging on every word
That's a fun one to listen to while walking. My own Map is going to look much different once I've completed this Walk to Mordor.
Listening To: Harry Potter and the Order of the Phoenix
1