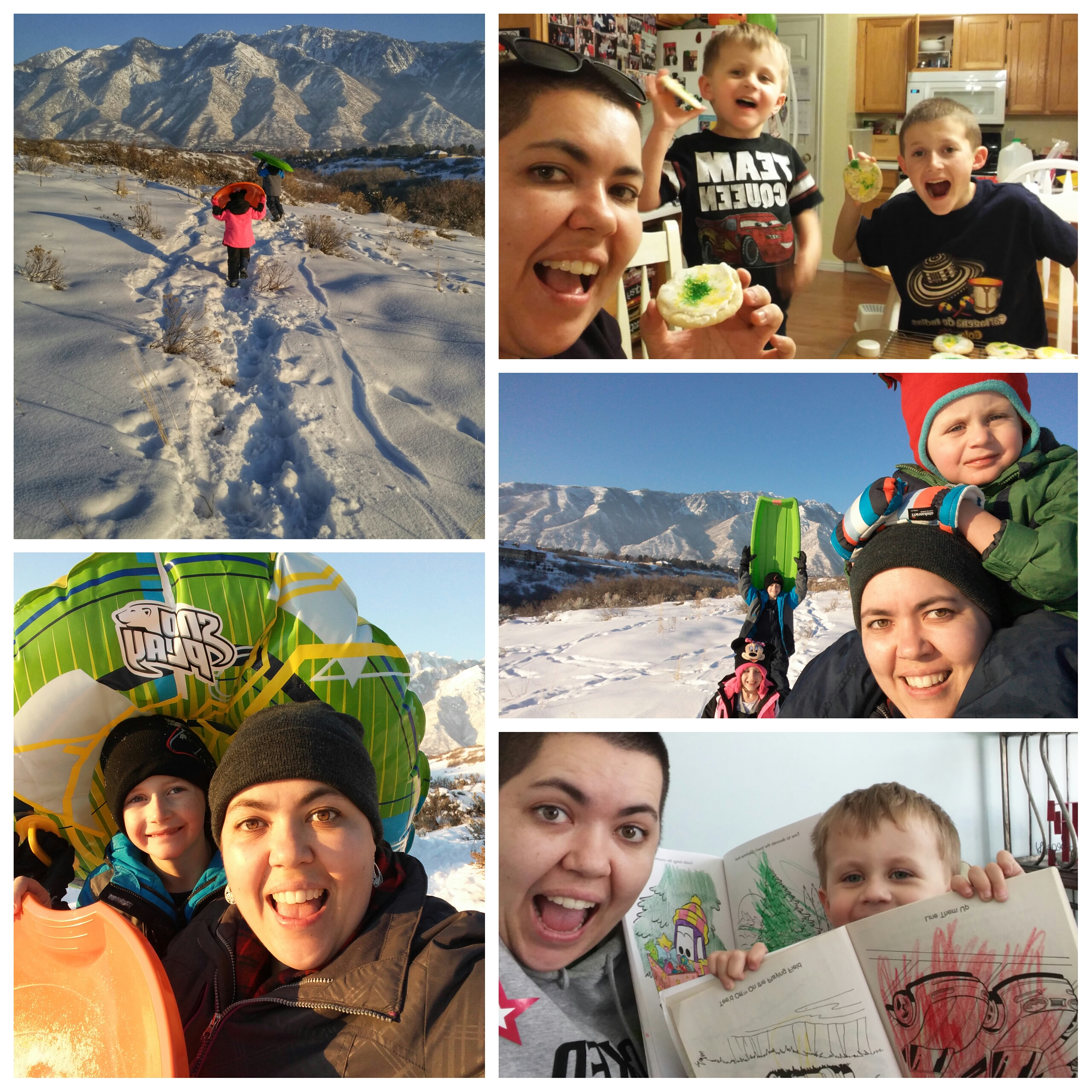 Hi. I'm back.
I celebrated the start of this year with 3 of my favorite kiddos. We colored, went sledding down a semi treacherous hill, made cookies, and had a movie night. It was crazy and messy but nobody got hurt and everyone had fun.
After celebrating a National Day every day for nearly a year and a half, I started taking a few days off during Nov/Dec. It's tough for me to celebrate these National Days when all I want to be doing is Christmas Activities. And there is only so much time in the day, ya know? That explains my absence over the past several weeks.
I've always loved new beginnings (and my life seems to be very full of them). While not much has actually changed this past year, it is likely that I'll look back at 2015 as one of the most important of my life. It was a year of reflection, battling demons, and accepting myself. This blog of daily celebrations has played a crucial role in helping me to find joy in an otherwise difficult journey.
Now, as I think about my aspirations for 2016, I recognize that I need to make a change to this blog. For three main reasons:
The first year celebrating was a blast, but going through the second time hasn't been as fun and new.
It's so unhealthy.
I'm ready for a new adventure.
So, I think I will be stepping away from the National Day Celebrations. I'll still celebrate them as often as I can, but something like this should never feel like a chore. If it stops being fun and exciting, no need to push it.
I guess that means I'm in the market for some new ideas. I would still like to do something daily. My blog is called One Day At A Time, after all. So here are a few of my ideas:
Get a 365 Recipe book and make the dish every day. Down side – expensive and also probably unhealthy.
Make an extreme weight loss/health goal and track my daily workouts and progress here. Down side – probably pretty boring for readers.
Build or create something, like write a book or some sort of craft and track my progress here. Down side – probably really boring for readers, and I also don't know what I'd make. (A bed? Could I build a bed?)
Visit and write about 365 different locations/events/sites wherever I am. Mostly this will be NYC, but it would also include Utah or Texas or wherever else I may find myself over the next 365 days. Down side – DO I HAVE TIME FOR THAT???
If any reader out there has a bright idea of something I could do and write about each day, I'm open to suggestions. Or, you could vote on any of the ideas I listed. I'm a person that loves experiences, but sometimes I need the motivation to actually leave my apartment. I'm more of an introvert than most people believe. I could (and sometimes do) happily spend days inside my apartment without speaking to anyone. Things like this get me out, get me active, and turn a year that leads nowhere into a year of firsts.
Happy New Year to you all. Congratulations on how far you came in 2015, and good luck for your journeys in 2016.
There are so many days, but they are all worth celebrating.